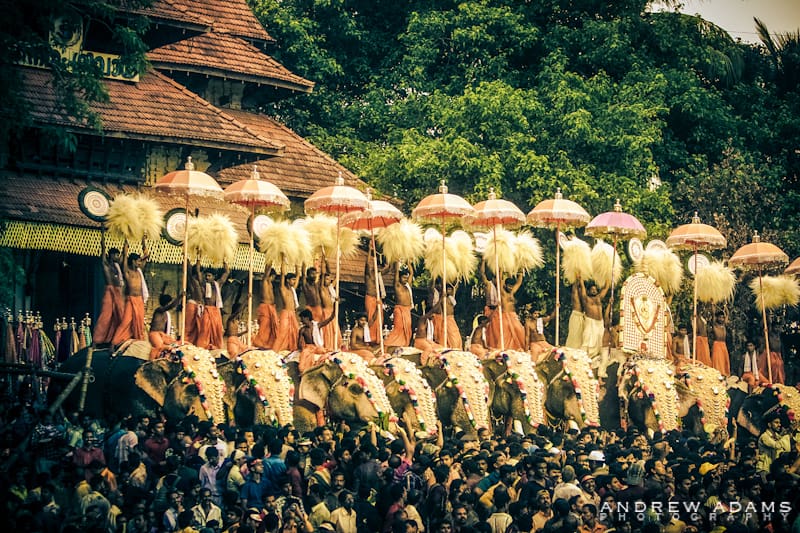 Thrissur Pooram Festival, Kerala, is one of India's largest cultural festivals.
My top travel tips for Kerala, recently voted a top destination for 2014
GUIDEBOOK publisher Lonely Planet recently named Kerala one of the top destinations for family travel in 2014. And I agree. Soft, white sand beaches, gentle people, a tropical climate, fresh spices, tea plantations, India's highest literacy rate, a unique culture … there are so many reasons to love Kerala. When asked, I often recommend starting a first trip to India in Kerala as it provides for a soft landing. Photographer Andrew Adams shares my love of Kerala, and in this photo essay shows us several views of this beloved state, which shares the southern tip of India with Tamil Nadu. For my top Kerala travel tips and recommendations, please keep reading.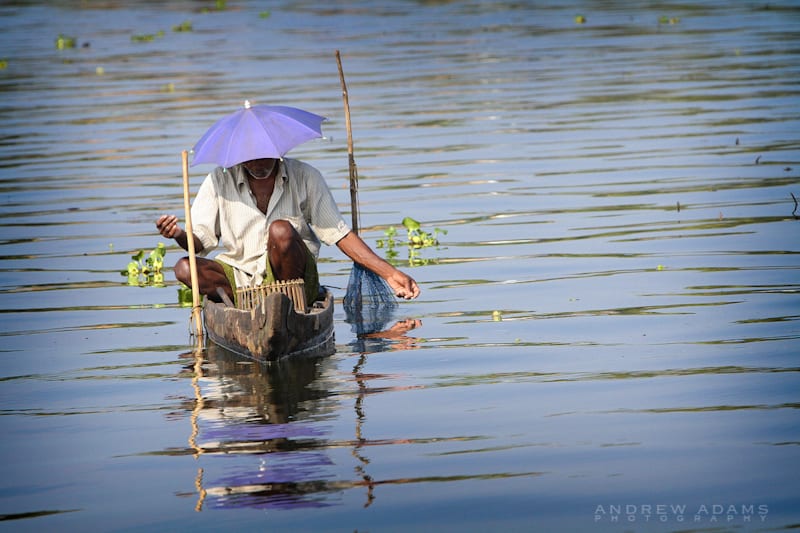 Fishing on the Backwaters: a charming scene of daily life in Kerala.
Flying down to Kerala
On my first trip to India, I landed in Delhi in December 2005 and by the end of the month, I was chilly! Delhi can drop to 5 C. at night in winter, and the houses are not heated. I was staying with Indian friends, who were all huddled in layers of warm clothing around room heaters, and I decided enough is enough. I did not leave Canada and travel all the way to India to be cold. I called a travel agent I knew and booked a flight to Trivandrum, Kerala. I flew on December 31, the only flight available, and I cannot tell you how happy I was to arrive in Kerala on a sun-kissed, balmy day. From that day to this, I have had a special place in my heart for this lush, tropical state.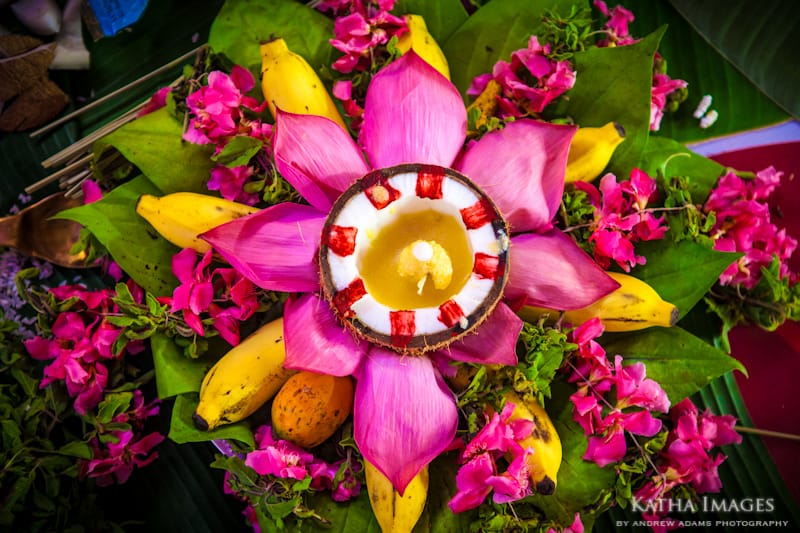 Colourful floral offering at a wedding in Kerala.
God's Own Country
The motto for Kerala, "God's Own Country," refers to the rich heritage, lively culture, lush topography and positive socio-political climate. A Yahoo! answer to the question "Why is Kerala called God's own country" turned up this: "Nestled between the pristine waters of the Arabian sea on the west and the lush Western Ghat mountains on the east, its intense network of rivers and lagoons, thick forests, exotic wildlife, tranquil stretches of emerald backwaters and a long shoreline of serene beaches make it a traveler's paradise."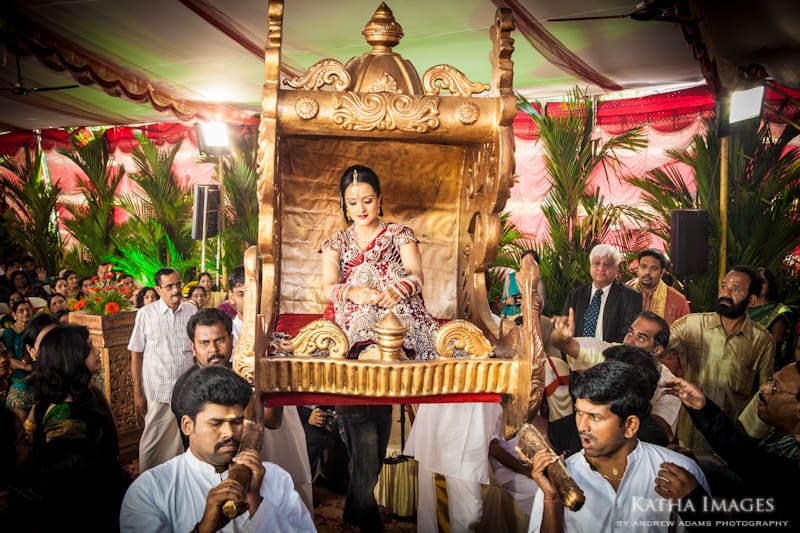 The bride makes her grand entrance on guilded Palanquin, Kerala.
Top travel recommendations in Kerala
I've been to Kerala twice, once to stay at an Ayurvedic resort, and once to visit the Backwaters and Cochin. I have also driven along the coast, making several stops along the way — including to get a hug from Amma, "the hugging saint," whose ashram is in Kerala. Based on my experience and those of others, here are my top suggestions for a trip to Kerala. 1. Take the treatments at an Ayurvedic resort. I stayed at Shinshiva Ayurvedic Resort for two heavenly weeks in 2006 and often dream of returning to relax on the beach, enjoy daily oil massages and eat fresh, healthy food. There are many Ayurvedic resorts and hospitals in Kerala to choose from, from the serious and austere to luxurious resorts on the beach that cater to tourists. 2. Float along the Backwaters. The Backwaters of Kerala are one of the state's top tourist attractions and for a reason. It's a unique way to relax and enjoy a traditional culture on board your own boat. 3. Ascend to the tea plantations of Munnar. Recently featured to great affect in Life of Pi, the lush hill station of Munnar is a centre of the coffee, tea and spice gardens of Kerala. A great place to find cooler weather and to commune with the natural beauty of the region. 4. Track wildlife at Peryiyar. Periyar Wildlife Sanctuary is one of India's most popular nature reserves, home to bison, sambar, wild boar, langur, elephants and about 46 tigers, at last count. 5. Visit the old port of Cochin / Kochi. Kerala has long been a seaport, attracting traders from the Middle East and beyond, and Cochin was a major port of call. The old part of the city is fascinating, and features boutique hotels, great restaurants, many cultural attractions, a spice market, the famous Chinese fishing nets and a wonderful atmosphere.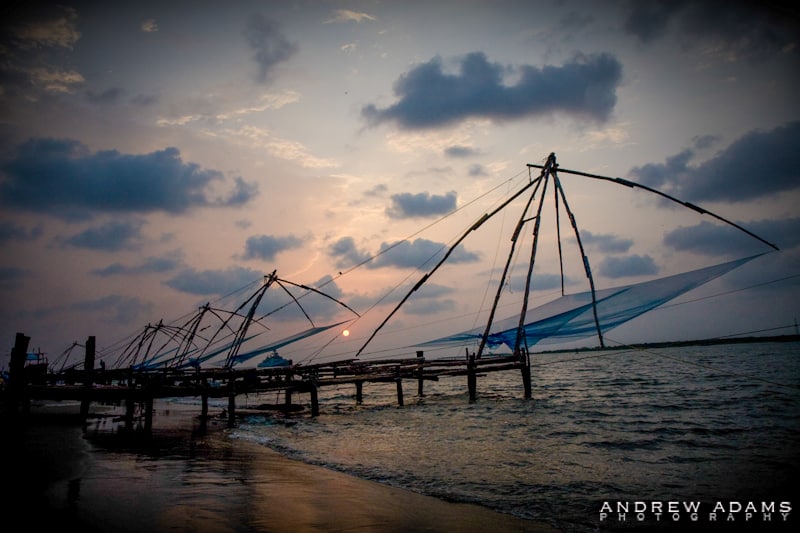 Traditional Chinese fishing nets are still used today in Cochin.
6. Bask on the beach in Varkala. This is Andrew Adams' favourite spot in Kerala, and perhaps all of India. Dramatic cliffs, gorgeous sunsets and a relaxed vibe combine to make it a great spot to unwind and unplug. 7. Enjoy the festivals. Kerala has its own unique culture, distinct from the other states of India, and many of its own festivals. Onam, for example, is an exuberant festival that takes place in August/September to celebrate the abundance of nature. 8. Celebrate monsoon season. I have been besotted by the idea of being in Kerala when the monsoon arrives since seeing a documentary about it, called Chasing India's Monsoon. While it is the off-season, and extremely hot and humid, it is considered a special time to be in Kerala. Many festivals take place and apparently Ayurvedic treatments are more effective. 9. Stay at a homestay. Lonely Planet rated Kerala as one of their top family friendly destinations for 2014 and recommended a homestay. 10. Eat fresh food and glorious spices. Kerala is the spice bowl of India, and you can visit, and even stay, at the spice gardens. The local cuisine is rice-based, spiked with fresh spices and often eaten off a large, bright green banana leaf.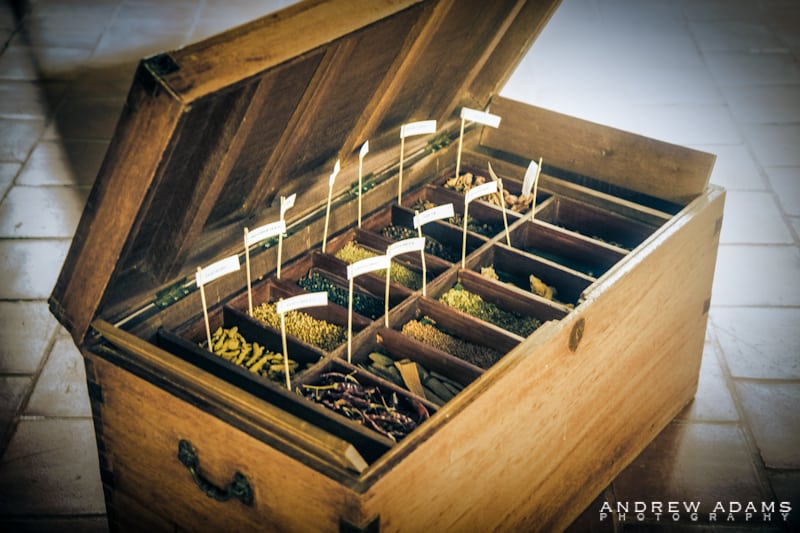 Kerala is the spice bowl of India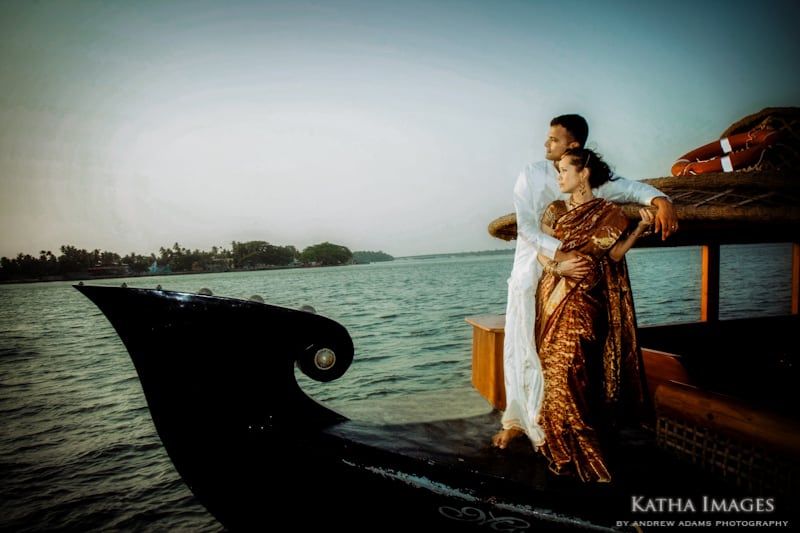 A wedding couple take a romantic sunset cruise on the Backwaters in Kerala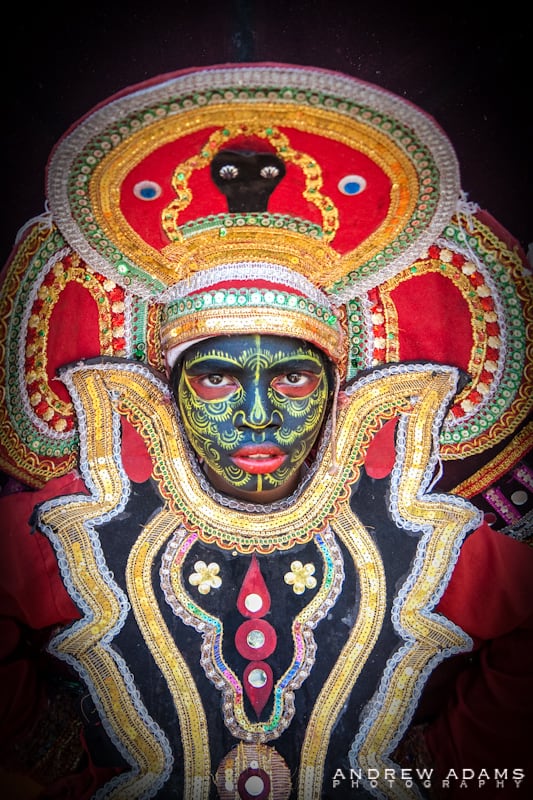 Colorful painted faces, a tradition you will find in most Kerala festivals
About Andrew Adams
The magic moment is what Canadian photographer Andrew Adams excels at capturing. Working with minimal gear,  Andrew gets up-close-and-personal with his subject matter and creates exquisite images that evoke a sense of wonder. He has traveled extensively in India and Sri Lanka, and specializes in South Asian travel and wedding photography. To View Andrew's Wedding Photos from Kerala To view more of Andrew's Travel Photos from Kerala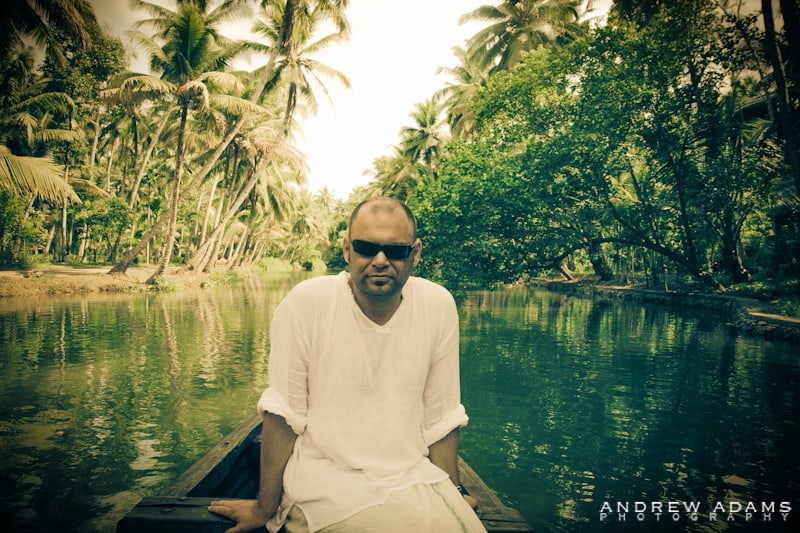 The creative eye behind the images, Andrew enjoying the simple life on the backwaters.
If you enjoyed this post, you can….
Get updates and read additional stories on the Breathedreamgo Facebook page.
Buy Song of India, a collection of 10 feature stories about my travels in India. E-book version is now only $1.99.
Subscribe to the free — and inspiring! — e-newsletter, Travel That Changes You.
The Munnar region of Kerala offers so very much to see and to do.
We enjoyed a weeks stay last May, which would rate as one of our best trips ever.

Broadly, there are several 'areas' of Munnar - the actual town which is cramped and a bit grotty but good for purchasing tea [the local leaf tea is good] and spices, or for enjoying a meal at several excellent small restaurants.

Then there are the tea estates, vast acres surrounding the town on all sides, some covering entire mountain sides. We enjoyed several quiet walks through the pathways of the Chokkanadu estates along the Munnar Devikulam road. The general rule is, if it is unfenced you can walk through, if fenced, keep away. The adventurous can hire a jeep to visit the high altitude Kollukumalai tea estate at the end of the Munnar Chinnakanal Suryanelli road. Kollukumalai is also famous for its unique orthodox process leaf tea.

Likewise there are several patches of endemic shola forest, many adjoining the tea estates. Nature lovers will enjoy walking through these to see the unique flora and if lucky, fauna. Watch out for leeches here especially in warm weather. If you fancy an unusual guided walk through a dense shola forest, go on a short trek into the Pambadum Shola sanctuary at Top Station view point. These can be booked at site or through the DTPC office at Munnar town.

The lakes: Madupetty and Kundala lakes are along the Top Station road, these are popular for their boating facilities. Those who prefer a bit of quiet can go further beyond the boating areas, nip through the light forest to the lake shore and relax in solitude. Top Station has the highest tea estates at around 1900+m. Those who dare can attempt to walk through the almost vertical tea paths here! It offers superb views and overlooks the Bodinayakannur district of Tamil Nadu. A bad road leads from Top Station to Kodaikanal, barely 50km away, however prior permission of both Kerala and Tamil Nadu Forest Departments are required to use this route which is also a popular trek path circumventing the Berijam lake. There is another pristine lake at Devikulam however it is the private propert of Tata Tea and permission is required to visit it. The less visited but equally pretty Anaierankal [elephants descent] Lake on the Munnar Thekkady road is also worth a visit, elephants, sambars and bisons can be sighted at the lakeshores here early mornings and late evenings.

The wildlife reserves: Eravikulam National Park - entry point at Rajamala just outside Munnar town on the Maraiyur Udumalpet road, is the home of the Nilgiri Tahr, a mountain goat. It is also has protected endemic grasslands interspersed with shola forests, which also offer spectacular mass blooming kurinji flowers once in 12 years [last in 2006]. Anaimudi the tallest mountain in peninsular India at just under 2700m, lies within this sanctuary. It is an easy climb to the peak but permission from the Forest Department is a must. As there are always long queues to enter Rajamala, it is wise to go as early in the morning as possible. The protected but fenced off endemic sandalwood forests of Maraiyur lie further along the same Udumalpet road. After Maraiyur comes the deciduous Chinnar sanctuary, the home of the star tortoise and grizzled giant squirrel. As the road passes through the forest, it is common to sight deer, elephants, langur, bisons, etc early mornings and evenings. At the Alampetty checkpost en route, you can engage a tribal guide for a short trek to the Thoovanam waterfalls or to the prehistoric cave paintings.

Just off Maraiyur on the Kovilkadavu road, lie the prehistoric Muniyara dolmens. A good place to see them is at St Pious Nagar where the entire rock face of the hillside is covered in dolmens. The road goes further to Kanthaloor, a scenic rural vegetable and fruit growing area. For anyone wanting to explore this under rated region in depth, there are a few hotels available at Maraiyur. Coimbatore is a more convenient airport and rail head than Cochin for those intending to stay at Maraiyur.

The Munnar Udumalpet route has the most spectacular scenery, ringed by high mountains all around with deep valleys, waterfalls, tea estates, shola forests, streams and colourful roadside trees of red spathodea, orange flame of the forest and purple jacaranda, changing to yellow Indian laburnum and bright red Gulmohr after Maraiyur.

The waterfalls: There are several all over the place but the big and famous ones are in the Pothamedu / Cochin road area. Athukad falls is the popular face of Munnar tourism posters. Further down are the Cheeyapara and Vallara falls. These are best just after the monsoons but usually flow throughout the year.

Hotels and home stays in all budget ranges are located in the Pothamedu area, the Chinnakanal area - most scenic, and the town area. Several tea estates offer their heritage bungalows for stays - at the higher end of the spectrum. As the sights are all spread out, it is convenient to hire a car with driver for the duration of the stay.

Overall, Munnar is the most perfect holiday destination with so very much to see. Even at the height of peak season, there are always places where you can be by yourself. We enjoyed our stay immensely and look forward to a longer stay on the next visit.
This review is the subjective opinion of a TripAdvisor member and not of TripAdvisor LLC.