Most Valuable Things In Life Essay
For the longest time, I was only able to get the supporting role in life. And though you may be thinking, "I didn't know Safa was an actress," well, I'm not. I literally mean that I always focused on helping others and making them happy for the first 13 years of my life. As the years passed, nothing of significance appeared to stand out in my memories, only glimpses of amusement parks and birthday parties.
Perhaps it was because my long-term memory is weak, or maybe those years were blurry because I didn't focus on myself. When I looked at others, I even saw them as bystanders in their own stories. Other friends tell me that they remember most of their childhood adventures clearly, but I can't say the same because my brain didn't mark my childhood as something that I played a significant role in.
Thankfully, I can tell you that every moment of the last three years is crystal clear because of the precious friends I've made in high school, especially my five best friends. These girls have given me the motivation to become a better person for myself and for others. I used to want to live a "normal" life and only engage in necessary activities but nowadays, I find myself wanting to do more, to do things that I'm interested in and wanting to invest myself in.
When I was younger, I loved writing about anything, and I even won second place in the Reflections Contest in middle school. This year, I joined Odyssey because I wanted to revive the girl who always passionately transferred her words to paper, regardless of the topic. I've started reading books for my enjoyment again, rather than simply for school assignments. A few days ago, I picked up "Coma" by Robin Cooke because I hadn't picked up a medical thriller (my favorite genre) since seventh grade.
There are so many more little things that I've begun to do that bring me joy in the midst of my overwhelming exams and assignments, all thanks to my supportive friends who inspire me and remind me that it's okay to indulge in myself.
Neha writes beautiful stories for her growing fan-base on Tumblr (I'm her #1 fan).
Divya is a devoted gamer and watches true crime shows.
Michelle uses her marvelous looks and brain to ace math competitions (she isn't a nerd, so get that stereotypical image out of your head).
Tiffany creates amazing digital art and equally amazing paintings (I take pictures of every one of her exhibitions in school).
And Emily does covers on YouTube with her lovely honey voice (I'm also her #1 fan).
Seeing them find time for the things that make them happy motivates me to do the same.
The friend who played the largest part in encouraging me to find myself was the one I made on the first day of ninth grade: Neha Satish. I will always remember those awkward but heartwarming five minutes for the rest of my life. Neha and I were both from different middle schools that didn't feed into our high school, so we didn't know anyone. We had noticed each other in first period, and we had seen each other again during lunch. My dad had come to the front lobby to pick me up at the end of the day, and Neha happened to be passing by to go to her car, too. She suddenly stopped in front of me.
"Do you want to eat lunch together tomorrow?" she asked.
I was startled to say the least, yet I was also elated. And so began our beautiful friendship. Neha knows me more than I know myself. I tell her my secrets and worries, and in return, she provides me with encouragement and comfort. Sometimes, we're the exact same person, and sometimes, we're polar opposites.
I used to be very cautious about my opinions around other people because I didn't want to hurt their feelings or cause disagreements. However, Neha and I have so many different views that we share without triggering each other. She taught me to think that my thoughts and opinions were valuable.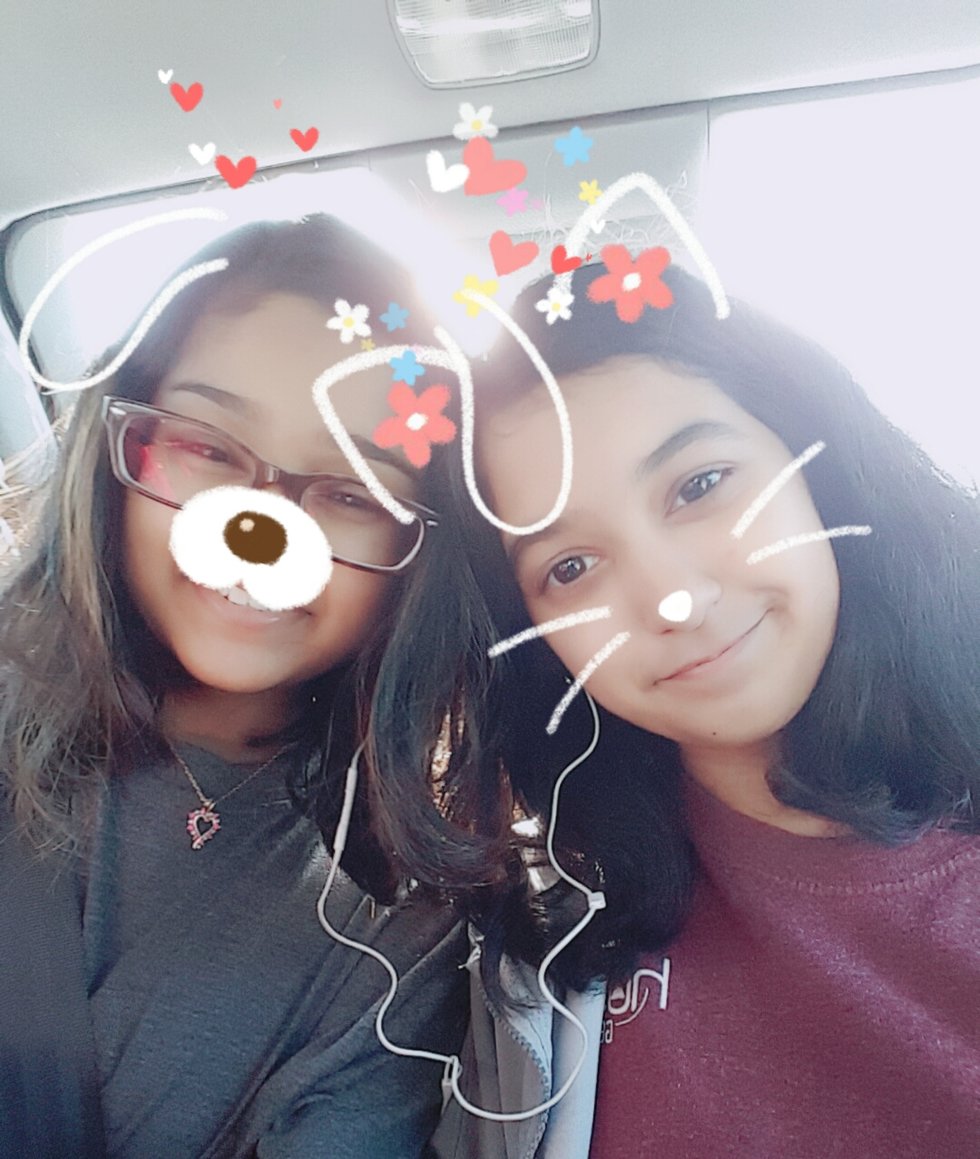 When anyone asks me who my role model is, I would tell them it's Neha Satish (so are you, Mom; don't freak out). Neha is a strong, loyal and reliable friend. She isn't afraid to pursue what she wants, and she knows how to make herself happy. This girl never runs out of motivational quips that always have me drowning in tears and gratitude. Without her, I would still be focused on making others happy and supporting them instead of myself.
When I told her that I wanted to start living a better life for myself, she promised me that she would help me through every step of the way and that she would make sure her shoulder was nearby when I needed someone to lean on. And finally, that she would support my every decision.
To this day, she has never broken that promise.
From conception to 8th grade, I lived in the tiny state of Connecticut. I lived in colonial style houses with big backyards and I knew every family in my neighborhood down to the name of their dog. Life was simple.
I then moved to a large city in the Bay Area in California. For those who may not know, the Bay Area is the cluster of cities surrounding San Francisco including San Francisco itself. Right off the bat, I had a hard time adjusting. The 8th grade was a horrible time to move since everyone were friends with each other since birth and grew up in the social bubble that is the Bay Area.
After years of adjusting, I finally got the hang of it Sophomore year of high school. I joined sports teams and clubs and I expanded my social circle. My mind really opened up to the free will of the West Coast. I began to realize how much fun it was to live in California. You could practically do anything you want (as long as you're willing to drive in the freeway traffic). I was opened up to new practices and interests like yoga, hiking and exploration, veganism, fashion, and to discover your passion and what you were put on Earth to do.
Then my Senior year rolled around, and at the same time, California was experiencing major inflation. The average 3 bedroom 2 bath house was going for roughly $1 million dollars on the market. All around me new housing complexes were being built; houses on houses of the same exact house, just with a different color scheme. I started to see the "golden hills" of the valley around my city for what it really was; burnt and dead.
The blur of the headlights on the freeway every night I drove past it, feeling sorry for the poor parents who want to get home to their children by dinner time but their commute is an hour and a half. I started to dislike where I was. I looked forward to visiting my family back in Connecticut, where the water was clear and the grass and hills were green. That's when I decided to do what is better for my soul; move back to Connecticut.
Of course, I didn't choose Connecticut (CCSU to be exact) just because of looks. It boiled down to out-of-state tuition for the first year will still be cheaper than in-state tuition in California. I also preferred the social bubble that is New England. I liked being so close to other states and other populous cities rather than just being close to San Francisco. I missed having four distinct seasons and seeing snow on Christmas. I missed seeing New England Patriots fans on the daily. I missed my extended family. I missed it all.
However, after living here, I do miss California. I miss my friends, including my soul sister who I did everything with. I miss the long drives to the beach. I miss the dry heat (I don't think anyone likes humidity). I miss the vast array of vegan and vegetarian options that was actually good. I miss the few people that had golden souls who would lay in hammocks with me and sing our favorite indie songs.
Upon further reflection, I realized that although my heart may ache for the people I left behind, I am beyond grateful and lucky to have experienced what I have. I am so different from my fellow classmates here in Connecticut, and I am grateful for that. I am happy I chose to settle down here in Connecticut, and I am happy that I can fly to California to visit whenever I want. I am happy with how my life has turned out thus far.